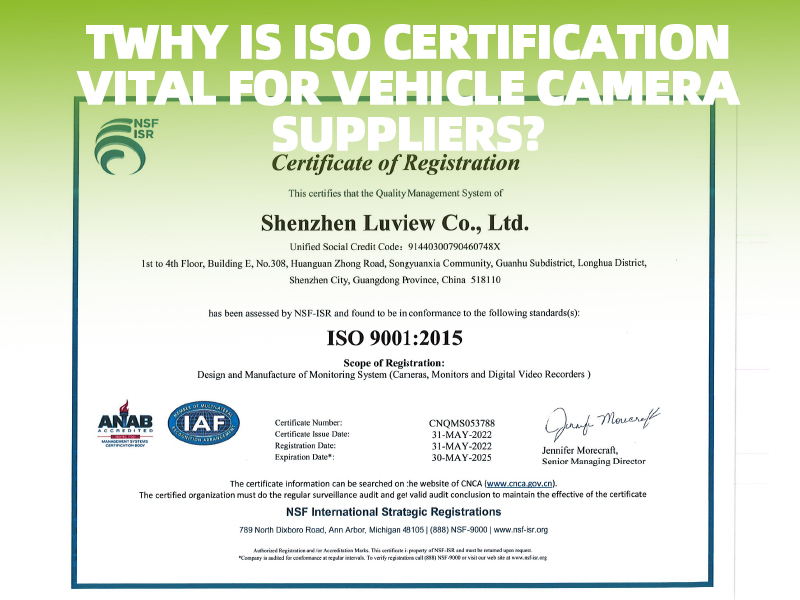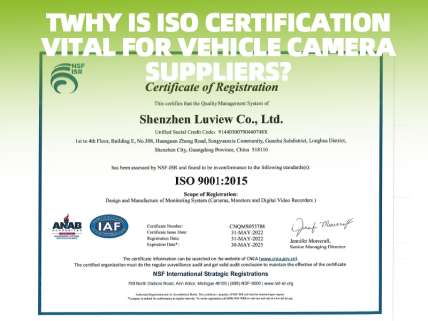 Why is ISO certification vital for vehicle camera suppliers?
ISO certification introduction
ISO certification is a certification issued by the International Organization for Standardization (ISO), which verifies that an organization's management system, manufacturing processes, services, or documentation processes comply with all standardized quality and safety standards. ISO certification is widely recognized globally and serves as an important symbol of a company's commitment to continuous improvement and meeting customer needs, regardless of the industry's size.
ISO 9001: Quality Management for Automotive Suppliers
The Importance of ISO 9001 in the Automotive Industry for Quality Management and Compliance with Supply Chain Legal Requirements
ISO 9001 is of paramount importance in the automotive industry for quality management and compliance with legal requirements in the supply chain. This globally recognized quality management standard is particularly crucial for automotive suppliers. It ensures that suppliers can consistently provide products and services that meet customer and other relevant regulatory requirements. By establishing comprehensive quality management processes, automotive suppliers can optimize their operations, reduce errors, improve efficiency, and ultimately enhance product quality. In terms of supply chain management, adhering to ISO 9001 helps to mitigate risks within the supply chain and ensure the legal compliance of the supply chain, which is crucial in preventing potential catastrophic consequences.
ISO 14001: Environmental Management in the Production of  Vehicle Cameras
The Importance of Environmental Management and How ISO 14001 Helps Automobile Companies Reduce Environmental Impact
ISO 14001 is an international standard focusing on environmental management systems, and it holds particular significance for manufacturers of vehicle cameras. This standard is designed to assist organizations in reducing their negative environmental impacts, ensuring compliance with environmental regulations, and continually improving environmental performance. By implementing ISO 14001, automobile companies can more effectively manage energy and resource consumption in their production processes, reduce waste, and lower pollution. This promotes sustainable business practices, not only fulfilling corporate social responsibility but also enhancing market competitiveness in today's environmentally conscious consumer landscape.
ISO 45001: Occupational Health and Safety in Manufacturing
The Role of ISO 45001 in Enhancing Workplace Safety and Reducing Occupational Hazards in the Production of Vehicle Cameras
ISO 45001 is an international standard aimed at helping organizations improve their occupational health and safety management systems, reducing workplace risks, and preventing work-related injuries and health issues. For companies involved in manufacturing vehicle cameras, this standard is particularly crucial, as their production environments may involve various potential workplace hazards. By implementing ISO 45001, companies can systematically identify hazards and implement effective risk control measures, thereby enhancing overall occupational health and safety performance. This not only helps protect the health and well-being of employees but also brings about economic benefits by reducing costs associated with accidents and illness.
ISO 50001: Energy Management in Automotive Operations
The Benefits of ISO 50001 in Reducing Energy Consumption and Promoting Sustainability for Automotive Companies
ISO 50001 is an international standard focusing on energy management systems, aiding automotive companies in reducing energy consumption through systematic energy management. This standard encourages organizations to better monitor, measure, document, and report on their energy flows, thereby driving continuous improvement in energy performance. For the automotive industry, this means reducing costs and carbon footprint in the process of manufacturing vehicle cameras and other automotive components. Implementing ISO 50001 helps businesses identify and capitalize on energy-saving opportunities, not only reducing environmental impact but also promoting sustainable development while enhancing economic benefits.
ISO 27001: Information Security in Automotive Companies
The Importance of ISO 27001 in Protecting Sensitive Data and Information in the Automotive Industry
ISO 27001 is an international standard for Information Security Management Systems (ISMS), crucial for automotive companies due to their handling of large amounts of sensitive data, including customer information, employee data, and design and development materials. ISO 27001 provides a framework to help organizations protect this information from unauthorized access and data breaches by implementing appropriate security measures. This not only helps automotive companies prevent security vulnerabilities but also enhances trust among consumers and partners, ensuring business continuity and compliance.
IATF 16949: Quality in Automotive Production
How IATF 16949 Aligns with ISO Standards in Focusing on Defect Prevention and Quality Management in Automotive Production
IATF 16949 is a technical specification developed in collaboration between the International Automotive Task Force (IATF) and the International Organization for Standardization (ISO), specifically tailored to the automotive industry's supply chain. It is built upon the ISO 9001 standard and aims to promote continuous quality management and improvement processes, focusing on defect prevention and waste reduction in the automotive industry. IATF 16949 requires automotive manufacturers to implement consistent quality management systems throughout the entire production and assembly process to ensure the delivery of high-quality products and services. This standard assists automotive industry suppliers in remaining competitive in the global market while meeting the growing consumer demands for automotive safety and reliability.
Case Study of ISO Certification in the Automotive Industry
In the automotive industry, obtaining ISO certifications such as ISO 9001 and IATF 16949 can provide a competitive edge because they represent a commitment to quality, safety, and efficiency. ISO certifications not only help companies comply with international best practices and regulatory requirements but also enhance the confidence of consumers, suppliers, and investors. Luview, for instance, has achieved ISO 9001 and IATF 16949 certificates, which have elevated the company's reputation and brand value. This demonstrates Luview's dedication to delivering high-quality products that align with the highest international standards.
Conclusion
https://luview.com/wp-content/uploads/2023/11/Why-is-ISO-certification-vital-for-vehicle-camera-suppliers-2.jpg
600
800
luview
http://luview.com/wp-content/uploads/2022/04/logo-web.png
luview
2023-11-09 05:57:50
2023-11-23 03:16:05
Why is ISO certification vital for vehicle camera suppliers?