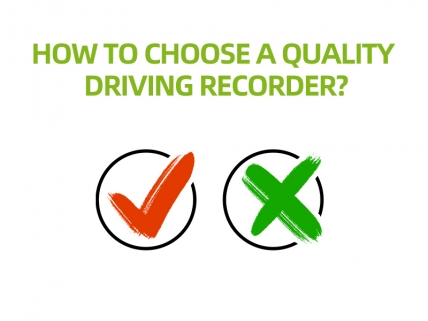 How to choose a quality driving recorder?
If you have selected a reliable brand to buy a driving recorder, you need to focus on analyzing some product parameter before you purchasing a driving recorder, it seems like shooting angle, resolution of picture, compressed format, caching, and we also need to know whether the video can be closed manually; whether it can record a video normally at emergent situation; whether no jamming to other electric products and whether purchasing with card etc.
Shooting angle
The shooting angle is 100 degree for ordinary driving recorder, which is basically  enough to make sure shooting the two lane side of vehicle. Of course, bigger angle is better, and the expense is more too.
Resolution of picture
Generally video resolution  is 1280 * 720, which can promise take a clear picture for license plate in ahead, and license plate of side lane will be a little vague in the driving recorder. In addition, the photosensitive ability of SMOS chip in driving recorder and the quality of lens' glass is connected with the shooting effect at night.
Compressed format
Most of driving recorder use compressed format H.264 .  Without a good compressed format but not losing frame, which require bigger storage capacity and higher reading speed of memory card. The size of 1 minute fragment of 720p resolution H.264 compression is about 60MB. In terms of drivers, it is helpful to choose a reasonable recording interval and volume for providing accident evidence in time, and 1 minutes as a interval time is appropriate.
Cache
A bigger volume of cache can bring smoother video and better memory card compatibility.
Emergency video
If there is a important video you want to leave, and the driving recorder also need to shoot video next,  which cause the important video will be deleted at the next time, for solving this situation, it occurs a emergency video design for keeping a special video,  so that if you just press a key manually, you will force the video to be saved without being automatically deleted when the card is full. Automatic emergency recoding video is the use of gravity sensor. It will automatically protect this video without being automatically covered and deleted during monitoring  a violent vibration on car, this function will be useful for vehicle collides.
Shielding measures
In order to decrease the cost o products, the copycat products always do not take any shielding measures and without strict test for their products, which will cause this products disturb some electronic products, such as GPS navigation  , remote control, audio, tire pressure meter, and driving computer, etc.
Whether purchasing with card
Driving recorder video with high definition picture,  always has a big volume up to hundreds MB per minute, so that there will be a strict request for reading speed of memory card, and  I advise driver purchase a superior card, because the slow speed card driving recorder is easy to be out of order.
Shenzhen Luview is a manufacturer in China specializing in researching and manufacturing car camera system products, with high quality and competitive price. We always think : Quality first, development based on sincere. If you are interested in our products, please flee free to contact us by email: [email protected].
https://luview.com/wp-content/uploads/2017/12/How-to-choose-a-quality-driving-recorder.jpg
600
800
luview
http://luview.com/wp-content/uploads/2022/04/logo-web.png
luview
2017-12-05 14:56:02
2022-09-03 13:55:05
How to choose a quality driving recorder?